Your Cheat Sheet to Planning a Mt Kinabalu Climb in 2020
Your Cheat Sheet to Planning a Mt Kinabalu Climb in 2020
Tips on which Mt Kinabalu route to choose, how to get a permit, and how to prepare for your Mt Kinabalu hike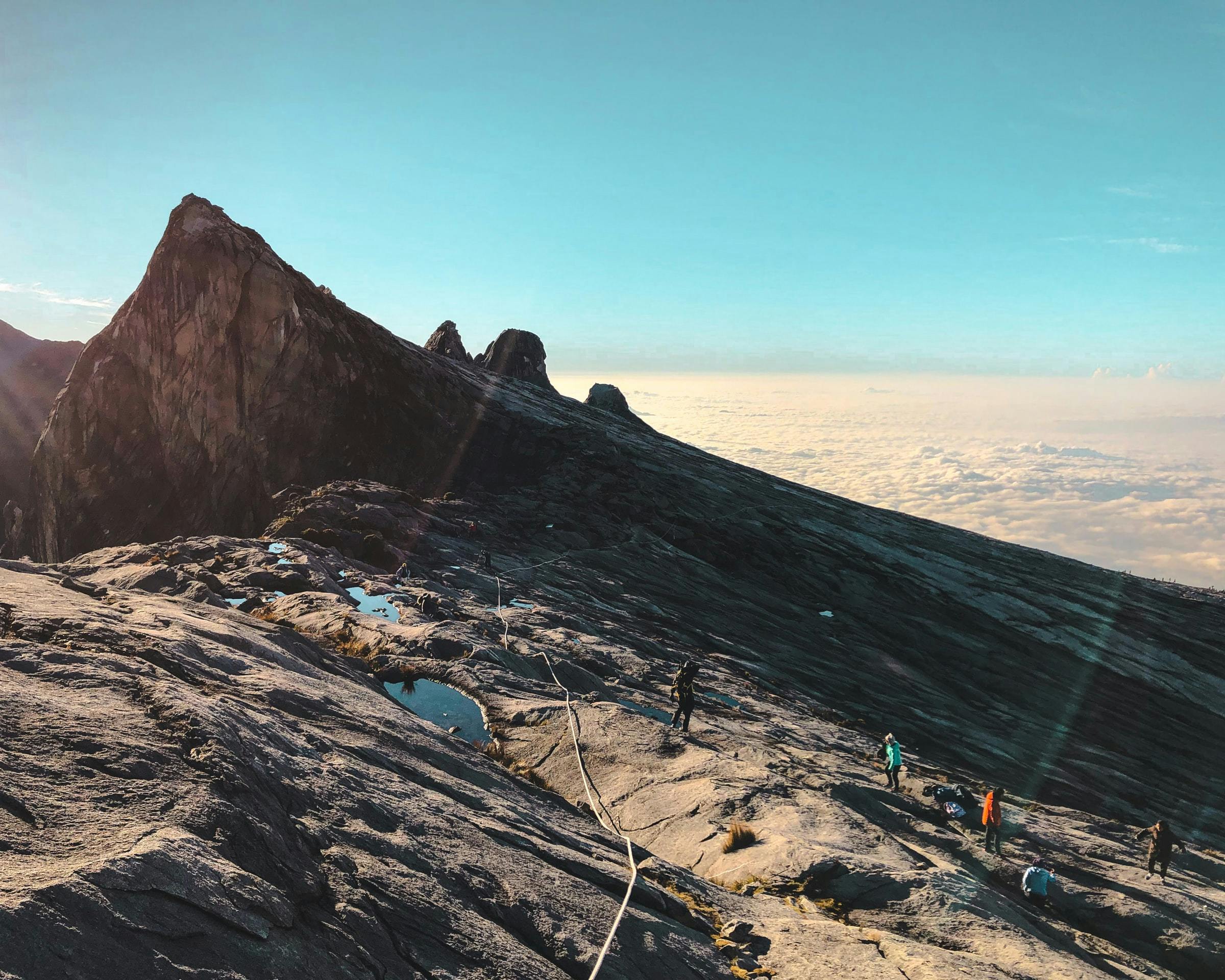 Mount Kinabalu is one of the most beautiful climbs we've been on - within 24 hours it takes you from dense Borneo rainforest, to enchanted forest, and then finally to the moonscape at the summit. It's also a pain to plan as the routes have changed since the earthquake in 2015, permit availability is opaque and the pricing of climb packages varies so much. We've put together this Insider's Guide to demystify the Mt Kinabalu planning and booking process.
1
There are 3 routes to choose from
There are three routes at Mt Kinabalu: Regular Descent, Via Ferrata (Walk the Torq). Via Ferrata (Low's Peak). Don't be fooled by the names - all three of them take the exact same route to the summit & back down, and all take 2D1N. The only difference is that instead of going straight back down the mountain after you do the sunrise summit, the Via Ferrata routes include an additional activity off the side of the mountain (pictured). If you just care about summitting, go for the Regular Descent.
2
You'll need a permit from the park authorities to climb
You'll need a permit to climb Mt Kinabalu, which you can obtain through a local travel operator. There are 3 things you need to know about the permits. First, the no. of permits (approx 140 per day) is directly linked to no. of hostel beds available at the park, as all climbers are required to stay at park hostels. Second, each local operator may have a different number of permits for each given day. Third, each local operator might obtain the permit for a different price.
3
To get a permit: book in advance, go solo or do the Via Ferrata routes
The route you book determines which hostel you stay at - Regular Descent climbers stay at Laban Rata/Panalaban & Via Ferrata climbers stay at Pendant Hut. As a Via Ferrata climb is more expensive, fewer people do it - so hostel spaces (and permits) are easier to obtain. So if Regular Descent is booked on your date, you can still do the climb by booking a Via Ferrata climb. In peak season (May-Aug), book 4-6 months in advance for Regular Descent, and 2-3 months in advance for Via Ferrata.
4
Climbing packages are 100% standardised so choose based on price & availability
When you start researching climb packages, you might notice that prices vary hugely and wonder if there's a reason for the difference. Mt Kinabalu is so tightly controlled that everything from the accommodation, food to the state-appointed guide is the same for all climbers. Paying more does not get you a better guide/accommodation/food. So pick your climb package based on price & whether the local operator can get permits on your dates.
5
Novice climbers can do it with some training
The Regular Descent hike is 17.5km (up & down the mountain) and is approx. 50% steps and 50% rocky terrain. It includes: 380 flights of steps the first day, and 740 flights of steps on the second day. It's doable for novice climbers who do regular exercise. If you choose to do the Via Ferrata routes, you will need to be a little fitter.
6
Pack water, snacks, lots of layers & a headtorch
The key things to pack are: at least 1.5l-2l water, snacks (as the food provided isn't great), lots of layers (for less than 10 degrees Celcius), a headtorch, gloves and shoes with great grip as it's slippy on the way to summit. If you forget anything, there are a couple of great mountain gear shops (pictured) in Kota Kinabalu town. You can also get ponchos, headtorch, and hire a porter at Mt Kinabalu Park HQ.
7
There are toilets & water stops on the way up the mountain
The first water stop is at the 6km mark, which is why we recommend bringing enough water to get you to 6km (about 1.5l to 2l for us). There are also rest stops and WCs every 1km (or less) on the trail up to the overnight rest stop.  
8
At the top, sleep in dorms, with solar-powered showers & charging points
Other than two private rooms, all accommodation on the mountain are dorms. Dorms have bunk beds, mattresses and sleeping bags. They can get noisy so if you are sensitive to sound, bring earplugs for a better night's rest. The dorms are solar-powered - which means hot showers on a sunny day and cold showers on a rainy day. There are plugs in the dorms so there's no need to bring a battery pack.
9
Summit climb: Wear headtorch & reach checkpoint by 5am
You'll start your summit climb at 2am after a quick breakfast. Key things to note about the summit climb: a headtorch is mandatory, you're required to make it to the summit checkpoint by 5am (otherwise you won't be allowed to summit) and there is a small chance the summit climb could be cancelled if there is torrential rain that morning.
10
Kinabalu Park does not permit cancellations
Kinabalu Park is incredibly strict on cancellations so once you book your permit, there is no rescheduling or free cancellation allowed. Even during Covid-19 when all of Malaysia was under lockdown, Kinabalu Park only allowed rescheduling until year end 2020. No credits, no refunds. So unless you're super sure about your dates, do not book a climb!