Top 10 Halong Cruises for Every Budget (Post-COVID Edition 2020)
Top 10 Halong Cruises for Every Budget (Post-COVID Edition 2020)
From budget to luxury cruises, for those who want a unique itinerary or for those who want to party, you'll find a cruise trip for you here! (Including some super awesome deals!)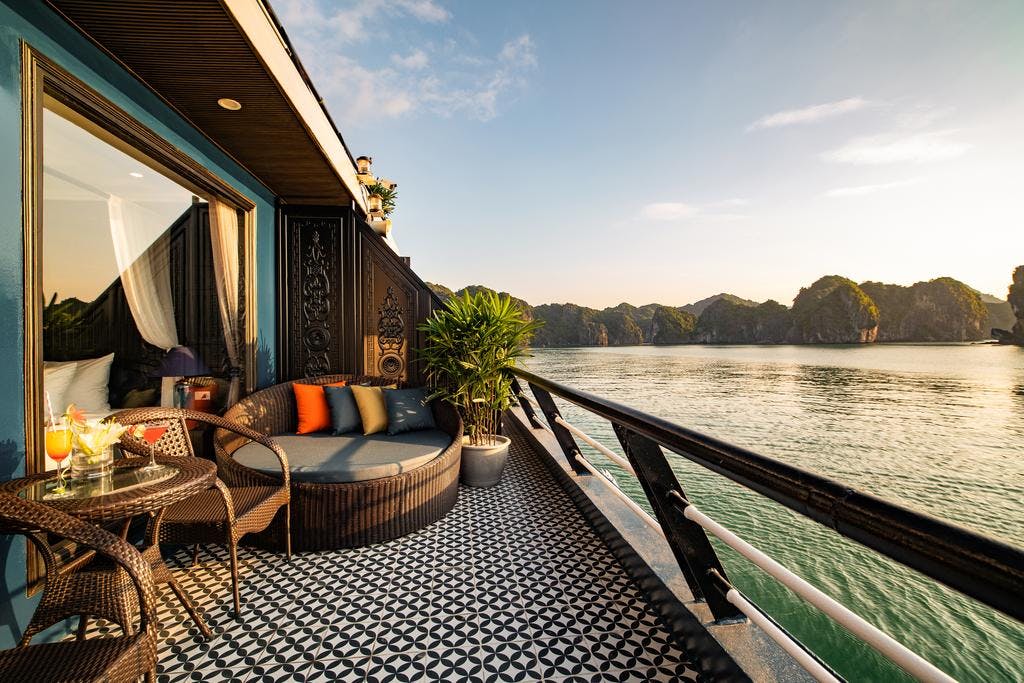 We know the sheer amount of Halong Bay cruise options are endless and can feel overwhelming, so we've narrowed down our 10 favourite ways to visit Halong Bay here.
Note: All the cruises linked in this article have reopened after COVID-19. Click here for the full list.
1
For those short on time, but want to see the highlights
If you're short on time, you should definitely look out for cruises that take the expressway route from Hanoi-Halong which cuts down your road travel time by half (from 4 to 2 hours each way). This 1-day cruise spends 5.5 hours on water - the longest day route for Halong Bay, so it ensures that you see all the highlights in a day! Plus, end off your trip with a great sunset view over Halong Bay.
2
For backpackers who love meeting new people
A backpacker's favourite, this young and energetic crew are experts in fun and often draw a fun crowd too! Despite being a budget cruise, they make sure to take good care of their guests. Many travellers have also pointed out how funny and entertaining their guides are! With a large max group size of 30 travellers, you'll meet new people no matter which section of the cruise you move to. You'll get some time to sunbathe on the sundeck with music and enjoy the company of your new friends. This cruise also takes the fast expressway route from Hanoi-Halong.
3
For those who want a unique itinerary
This day cruise stands out with its unique itinerary. It visits the less-touristy areas such as Lan Ha Bay and you'll get to trek up Monkey Island to see 360 views of the beautiful bay, a place where very few Halong cruises visit. Because of the unique route, many travellers have noted that the bay was not crowded at all! This is a nice mid-range cruise with modern interior fittings that tends to draw a quieter, more style-conscious traveller. If you're dreaming of floating on calm seas under boundless skies and going off-the-beaten path to avoid the crowds, this cruise is perfect for you.
4
For those looking for serious comfort and style
Ready to splurge and treat yourself? This 5-star luxury cruise takes luxury to the next level right from the get-go. Enjoy your swish limo transfer, rose-petal welcome onboard and incredible service. This boat is one of the newer ones on the bay, and the contemporary designed cabins are upscale in every way, fitted with large private balconies. And yes, the rooms actually look like they do in their publicity photos! Many guests have raved about the food - as varied as Vietnamese tapas to Australian roast. They don't skimp on providing the best for their guests - using local Vietnamese pearl powder for spa treatments. Other than its amazing amenities, this cruise also brings you to the less-touristy Lan Ha Bay and you'll do some cycling on Cat Ba (something that isn't included in most itineraries). Need we say more? Bonus: Scarlet Pearl is offering a 33% off their 2D1N cruise! (from 252 to 167 USD) This offer is valid till the end of September 2020.
5
For those who want a quieter, more private experience
With a small group size of 22 passengers, this cruise is a great option for those who want a quieter and more intimate experience. It's also one of the cruises that offers some of the best prices in Bai Tu Long Bay (the less-touristy part of Halong Bay). Bonus: Bai Tho cruises is offering a 10% off their 2D1N cruise (from 81 to 72 USD) and is currently the most affordable 2D1N cruise! This offer is valid till the end of 2020.
6
For solo travellers on a budget
If you're a solo traveller on a tight budget but still want to spend the night onboard, you're in luck! Being one of the more affordable 2D1N trips, this is one of the few cruises that have both shared and private cabins.
7
For those who want to party it up!
Looking to turn it up and have a lit night? 🤙This party cruise is jam-packed with fun activities: kayaking, swimming, boat jumping, beer yoga, just to name a few. The cruise also has a water trampoline, jacuzzi, and even a live DJ party on board! Why sleep off your hangover in your room when you can do it on the sundeck? 🤪For most travellers, the highlight of this trip is chilling and playing beach volleyball on a private island. Expect to cruise in style, make new friends from across the globe and be slightly/very hungover for most of this cruise!
8
For celebrating special anniversaries
This private cruise is perfect for couples who would like privacy and flexibility in itinerary while enjoying the wonders of Halong Bay. Sit back, relax and let the crew members take care of your every need. This cruise has an upper deck that comes with a covered lounge and a sun terrace for relaxation and getting the most personal bay views. There's even a private bedroom if you fancy a lie down!
9
For families or groups of friends
Featuring beautifully designed boutique cabins with private balconies, this cruise is perfect for families or groups of friends as it has spacious connecting suites. This is a brand new cruise that just started sailing in March 2020 and many guests have commented that it feels like a high-end hotel with amazing views! The staff are very enthusiastic, helpful and are constantly asking how they can make the experience a better one for their guests. This cruise also includes Lan Ha Bay in its travel route as well (off-beaten part of Halong Bay).
10
For those looking for super awesome deals
With Vietnam's borders still closed to international travellers, some cruises have put out super special deals to encourage domestic travellers to visit. Even 5-star luxury cruises are offering up to 60% off their trips - just like this one! (from 109 to 44 USD, offer valid till the end of September 2020) This cruise comes with a luxury sundeck with fun water slides for you to slide down to the bay and beautiful loft nets for sunbathing. It's the absolute luxe way of experiencing Halong Bay! Click the read more link below 👇for the full list of cruises that are having discounts. Do note that depending on the cruise, the discounts will be valid till anywhere between September to December 2020.