Top 9 Things to do with Kids this December Holiday
Top 9 Things to do with Kids this December Holiday
Our pick on some activities suitable for families with children to engage in Singapore amidst the pandemic!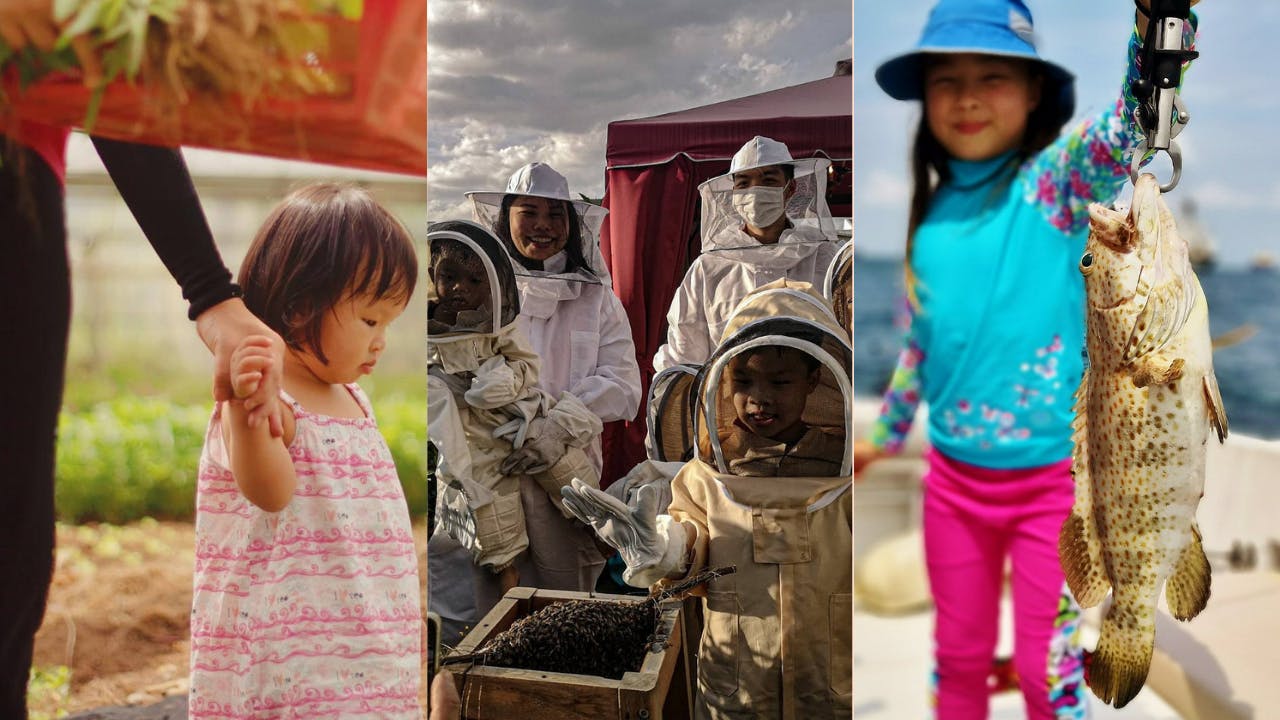 As a family with children, activities in Singapore can be limited, especially when finding things to do on weekends. Here are some of our favourite family-friendly activities to do, many of which contain educational elements and are still available this December holiday! What better way to spend the school holidays than with the family?
1
Bug-hind the Scenes of Singapore's First Urban Insect Farm
From nature to technology, learn about the unassumming heroes of the insect farm, the black soldier fly! These flies are eating 8,000kg of food waste a month and are transformed into valuable biomaterials that are used for multiple functions - pharmaceuticals, semiconductors, high immunity pet feeds and organic plant fertilisers. Talk about turning waste into gold! Do note that there are very few slots left for December 12 and December 19 2020 so book your slots soon!

2
Take a Boat Trip to Singapore's Kelongs
Great for locals and families, the Kelong Boat Tour to the Northern Eastern Banks of Singapore offers stunning scenes of wildlife, nearby islands, neighbouring ports, and mainland Singapore that reveals the lesser-known, rustic side of our metropolis. Travelling on a half-cabin cruiser, you will be accompanied by a knowledgeable guide who will share about Singapore's kelongs (floating fish farms) and our little island's sea activities. Making a visit to a high-tech fish farm on the sea, you will get to learn about sustainable fish farming and the struggles of the industry. That's not all, you will also visit the one-of-a-kind floating restaurant where you can take in the relaxing sea view or play some old-school games like Carrom and Jenga. You can even cast your own rod at a sure catch fishing experience at an additional cost.

3
Relive the Past of Chinatown & Get Amazing Family Photos
Travel to the past during this 2-hour walking tour, following the life journey of a coolie through stories of how early immigrants lived and how they helped Singapore become the great little nation it is today. Bring your kids for a little fun and exercise on a Saturday evening, and get ready for the photography tips and secret spots to get amazing shots that will leave you with beautifully captured memories as a family!

4
Mangrove Exploration for Wildlife Enthusiasts
A walk in Sungei Buloh gets better with an experienced guide to share about the wildlife that thrive in this local mangrove and how the ecosystem changes with the environment. You may catch various migratory birds in action, where they seek shelter and rest in Sungei Buloh! Sightings of reptiles such as the shore pit viper and the estuarine crocodile is common too. Perfect for inquisitive children, wildlife and science enthusiasts, this tour is a great family activity during the december holidays! What better way for learning to be more relevant that goes beyond the textbook?

5
Marina Barrage: What's Singapore's Water Story?
Been to Marina Barrage many times but never know what it's for? Don't fret! With the 2-hour guided tour around Marina Barrage and Gardens by the Bay, you will get to learn how Singapore manages water, waste and sustainable energy as a small country. An activity that is not only great for family bonding but also for learning. This programme is a perfect fit for children 6 years old and above and complements the Primary 3-5 MOE syllabus on Water Cycle, Energy Conversion, and Forces!

6
Singapore's Spice-y Trade History
Curious about the spice trade and the story behind various regional spices throughout Singapore's history? This educational tour around Fort Canning Park is designed with hands-on activities for children to explore through their senses. Originally created with the Primary 5/6 MOE social studies syllabus as the core, this tour is suitable for children 5 years old and above.

7
Cultivate your very own Edible Garden at Home!
With the quarantine-situation imposed during the COVID-19 pandemic, you may have thought of starting a home edible garden to brighten up the house, and here's your chance to get started! A 60-minute session, Urban Sproutz will ensure your first step into gardening is fuss-free. You will have the flexibility to choose from having the session in their farm, or even have the Urban Sproutz team come over to your house. This activity is also fun yet educational for children above the age of 5 to get their hands to work while learning about the growing process of plants!

8
Don't Bee Afraid: Short Bee Farm Visit + Honey Tasting
If you would just like to visit the above bee farm without the rooftop bar experience, this is for you! Your bee-loving children will still get to learn more about the bee ecosystem and see them up close! Get ready to gear up in protective bee suits - when else will you get the opportunity for such a suit up? What's more - a honey-tasting session to experience the flavours of fine unifloral honey during this pleasant time away from the bee-sy city life.

9
Fishing your fresh catch on a Private Yacht
Be out at sea on a private yacht with friends and family, fishing - not for compliments but your own meal. Caught fresh and cooked fresh with a BBQ lunch as you like it - fresh! A great family-friendly activity which both parents and children can learn how to fish and cook with the guidance of the experienced guide.
With two slots available, you may choose to bask in the beautiful sun in the morning slot or enjoy the sunset in the evening slot!

Browse Trips In This Story