Awesome Team Building Activities in Singapore in 2021
Awesome Team Building Activities in Singapore in 2021
Say NO MORE to boring team building!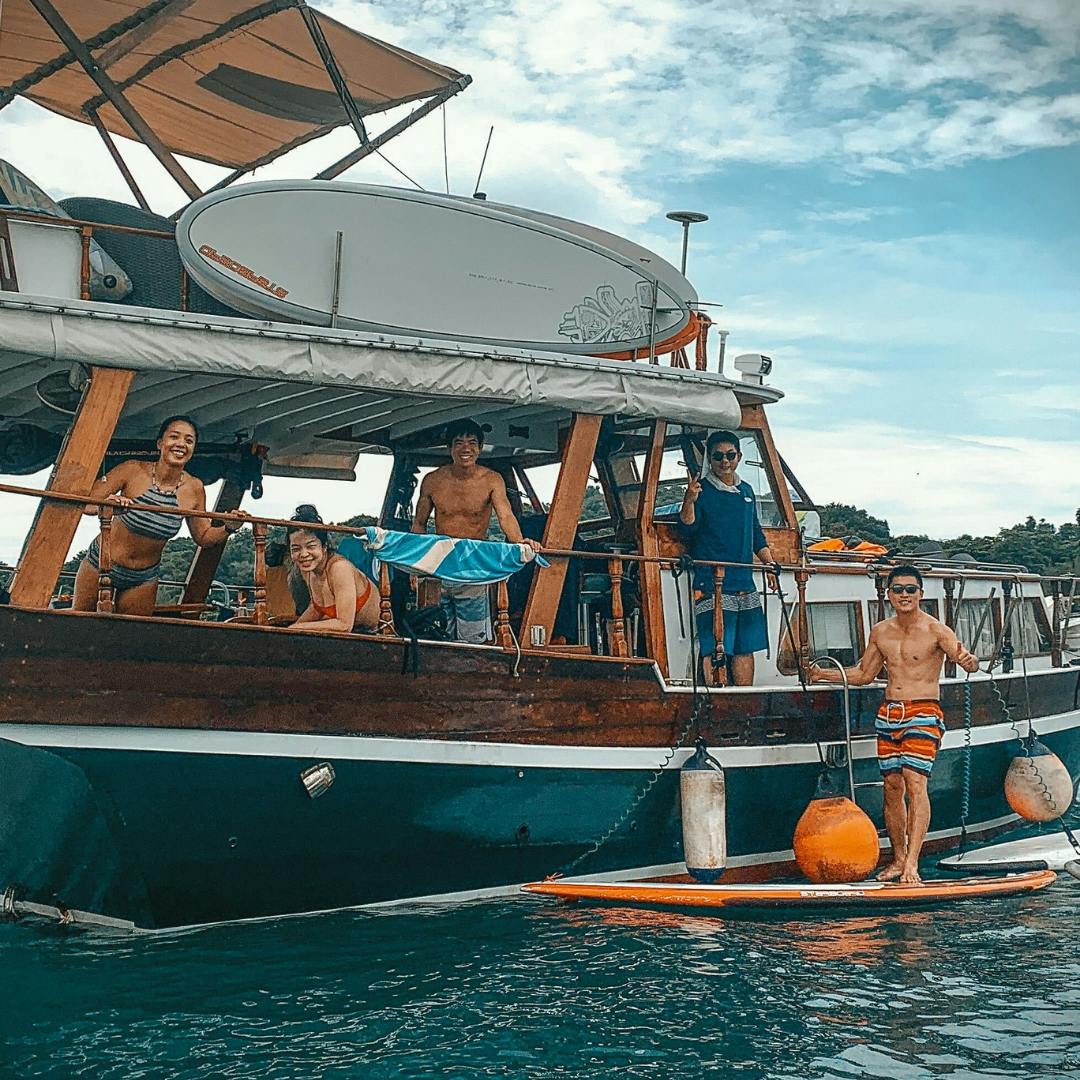 Explore new, cool (and guaranteed) fun ways to bond with your colleagues. Now that team bonding events are allowed in Phase 3, check out this ultimate collection of team building activities you have to try out in Singapore!
1
Go on a Yacht (with floats, watermat & kayak!)
It's all about the small moments ✨ Going on a huge yacht with many water activities might be what everyone thinks of when they imagine a yacht trip, but it's so much more than that. In reality, it's about being away from the city, relaxing on decks and spending quality time with your team as you watch the sails go up and diving into the sea off Lazarus. As one of the best-value yacht trips, it's perfect for bonding sessions out at sea! This yacht is also pet-friendly, so feel free to bring your furry friend along!
2
Be a Bartender for a Day!
Nothing like a good "Old-Fashioned" cocktail to ~wine~ down, are we right? Shake up a good time and attend a cocktail-making workshop! You'll learn to make 3 different cocktails at the beautiful Daizu cafe AND also drink what you create ✌🏻 Now you can have a fun day out and catch up with your colleagues out of the constraints of an office.
3
Chill & Art Jam together!
Immerse yourselves in a therapeutic and fun art jamming session - the perfect no-sweat activity for team building (both figuratively and literally 🤪). You'll be given a complimentary drink to completely let your inner Picasso loose, and there will be a resident artist around to provide guidance. At the end of the session, you'd be asking: Picasso who? 👨‍🎨
4
Kayak to Pulau Ubin Mangroves
See Pulau Ubin in a new light as you kayak through its mangroves, while your amazing guide shares little known stories of its community and wildlife. Hike to Puaka Hill to enjoy its beautiful granite quarry views. The coolest part that made us think we were travelling? Visiting a Kelong and having heartwarming chats with local fish farmers! This experience will definitely take your team's mind off work for the day!
5
Learn Peranakan Cooking in Farm-To-Table Experience
How about a real life 'Overcooked' challenge? 😜 Let Mummy Soh swoop in to teach you and your team how to cook a three-course Peranakan meal using family spices and ingredients harvested straight from the garden outside! Our favourite part? Definitely getting to enjoy the fruits of our labour and eating the home-cooked meal together — it reminds us of simpler kampong days of sharing stories and laughter.
6
Go on a HK Junk Boat to Southern Islands
Ride a rustic Hong Kong Junk Boat to Lazarus Island with your team for an exclusive Stand-up Paddleboard (SUP) lesson. You would also get to swim, snorkel, play on the aquamat, lounge on the water hammock, and whip up a feast on the barbeque pit (that's a long long list of activities 🤪) during your trip!
7
Secret Pizza Club
Team pineapple on pizza or nah🍍? That wouldn't matter at the Secret Pizza Club, where you'd make your own pizza in a handcrafted pizza oven! You'd be kneading, proofing, and raising your own fire using sustainably-sourced firewood — but most importantly, you'd get to eat your own pizza with a complimentary bottle of wine for every 2 persons!
8
Unplug with Forest Bathing Meditation
Forest bathing may sound a little out there for most of us but it's actually a Japanese mindfulness practice to help people to destress and inspire them to reconnect with and protect their country's forests. As your team soaks in the atmosphere of the forest, it allows your stress to wash away with each breath and opens your senses to the trees above and ground below — you'll be reminded of how we're all a part of something bigger than ourselves. 🍃
Browse Trips In This Story