Most Instaworthy Nature Getaways from Kuala Lumpur
Most Instaworthy Nature Getaways from Kuala Lumpur
These gorgeous nature weekend retreats are guaranteed to inspire your next Insta post and just help you detox from the bustle of KL!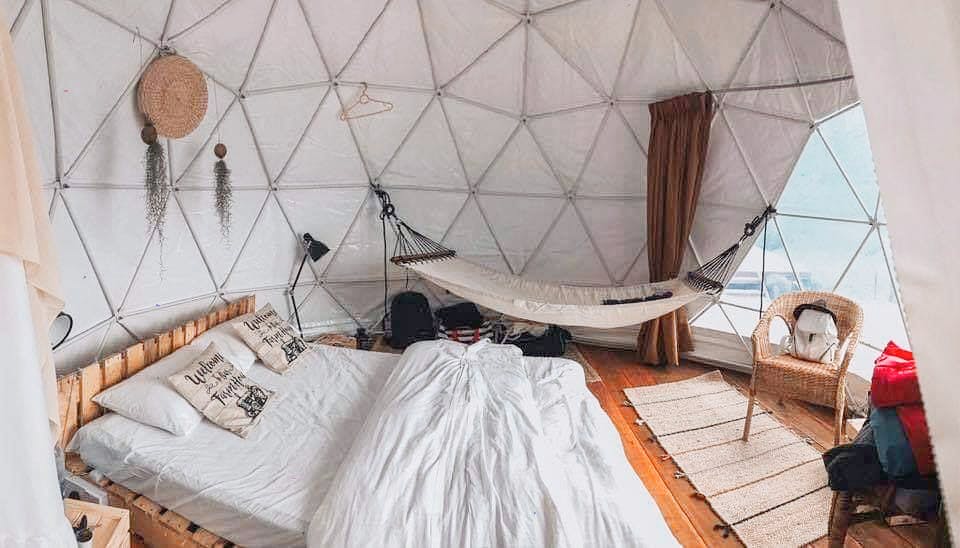 1
Dreamy Bubble Domes in Tea Plantation
Just 3.5 hours from KL in a farm in Cameron Highlands, are three dreamy bubble domes, perfect for a romantic 2D1N getaway. During your getaway, you can also learn about strawberry farming from your host Ruben, visit the closeby tea plantation, and hike into the mysterious Mossy Forest. This is one of our most popular getaways, so do book 3-6 months in advance!
2
Modern Farmstay in a Rainbow Container
Just 1.5 hours' drive away from KL is a unique hospitality concept with amazing views. This modern container homestay is made from recycled candy-hued freight containers and surrounded by rice paddy fields. Here, you can also live out the life of a farmer as a local guide takes you through the rice farming process, and just relax and cycle around rice paddy fields.
3
Bamboo Eco-Retreat for a Good Cause
Just an hour away from KL is this eco-retreat - built from sustainable materials and gives back to a great cause. This 2D1N getaway is for the adrenaline hunters. Here you'll find a 5-m Bamboo diving platform, Tarzan swing, bamboo rafts, flying fox, ATV, archery, Sumpit and abseiling. Your visit will also support Tadom staff, who are aborigines of the Temuan origin.
4
Sleek Glasshouse Retreat for Large Groups
This one-of-a-kind glasshouse was built as a passion project by a 'weekend farmer', intended to provide a retreat from the city. An hour away from KL, this gorgeous glasshouse is nestled in the jungle (no internet!), and is perfect for groups of 8-16 persons. During your weekend digital detox, you can interact with the horses on the ground, take a dip in a natural pool, enjoy freshly picked tropical fruits from the orchard, and have a BBQ party!
5
Stylish Rainforest Villa for Digital Detox
If you have a large group (6-8 persons), this 3 bedroom rainforest villa is perfect for a 2D1N retreat. In the heart of a rainforest an hour away from KL, this villa is next to a crystal clear river for you to swim in and close to forest walking trails. You can also just chill out on the vast balcony, its courtyard with sunken gardens, and beautiful open spaces. There's no wifi or television in this villa so you really get away from everything!
6
Adventurous Getaway for Explorers
This gorgeous getaway is for the adventure seekers! It's 3 hours away from KL in the adventure capital of Gopeng, and here you can go whitewater rafting, abseil down a waterfall and explore exciting jungle trails at night. You can also go caving in Gua Tempurung to see the marvels of nature etched in stone. HUGE bonus: the food here is super yummy!
7
Glam Durian Farm on a Hill
We're huge durian lovers and are super excited to discover this gorgeous boutique durian farm in Penang. This farm has modern hilltop villas with 360-degree lush jungle views all the way to the Straits of Malacca. Carl, your friendly host, loves to show guests around his orchard and share his extensive durian knowledge. If you come during durian season (May to July usually), you'll get to enjoy durian tasting too! It's a longer drive (5 hours from KL), but it's perfect for a secluded romantic getaway or a fun getaway with friends.
8
Jungle Retreat for Nature Photographers
This getaway is 1.5 hours away from KL, at the edge of the renowned Berembun Forest Reserve, known for its beautiful nature and waterfalls. During this 3D2N getaway you can hike to the forest, have picnics by the waterfall or take a photography workship with Nikt, your host and experienced travel photographer. Through these workshops, you will get to photograph both the rustic villages and amazing natural landscapes nearby.
9
Off-Grid Eco-Glamping Retreat
This 3D2N getaway just 75 mins away from KL definitely puts the 'Glam' in Glamping. Totally off-grid (no wifi!) and hidden away in the rainforest, the last leg of your journey requires you to cross a suspension bridge in the jungle or take a 4WD. Once here, you can swim in stream, go on jungle treks (beginner to intermediate), or relax with board games and a book in your tent. Expect simple but delicious homecooked meals here, made with the freshest of local ingredients.
Browse Trips In This Story