Best Glamping Trips You Can Take From Kuala Lumpur
Best Glamping Trips You Can Take From Kuala Lumpur
8 of the most perfect and unforgettable glamping experiences just a short drive from Kuala Lumpur, sorted according to price!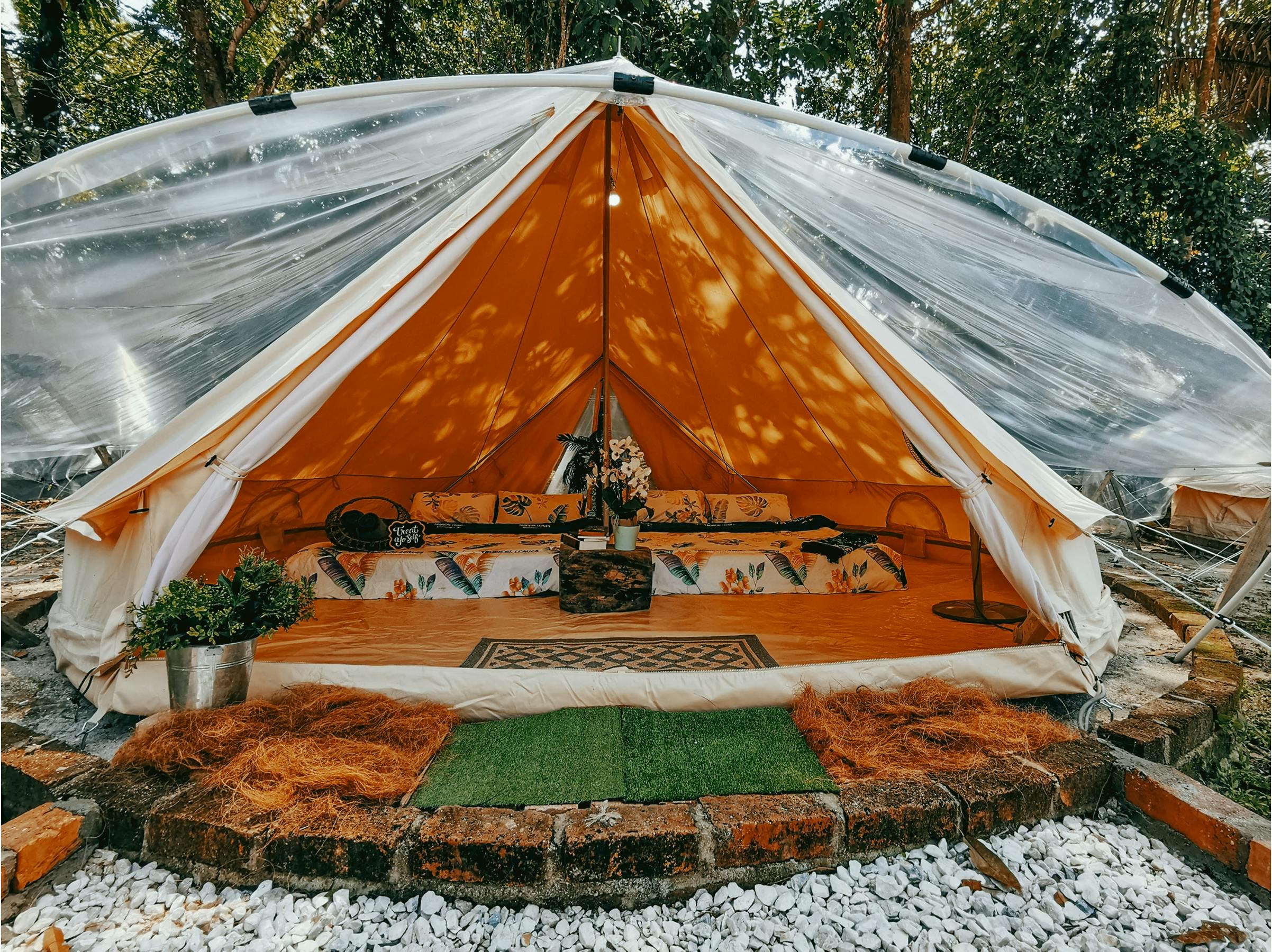 Glamping provides you with experiences that beat staying at any hotel. Get the best of both worlds — the luxurious comfort of a hotel and the fresh air of the great outdoors. Here are 8 of our top glamping favourites accessible from Kuala Lumpur, sorted according to price for 2 pax:
1
For adventurous friends looking for an exciting escape
Gopeng Glamping Park offers you the ultimate forest glamping experience full of nature and adventure — with the chance to explore nearby villages and an ancient tin mining town by bike, fresh brick oven pizza, and even a live jaw-dropping fire show! Depending on the group size, tents will come with 1-2 queen-sized beds. Each tent is cozy and beautifully decorated, the perfect combination of coziness and luxury. The stunning views from your tent are ones you will never forget.
2
For couples looking for a romantic dome-stay
Ever wondered how it feels like to stay in a bubble dome? A'moss Farmstay creates the environment for a perfect romantic getaway. The domes are perfect for two, thoughtfully decorated with fairy lights, creating a soft and cosy ambience. Ruban, your friendly host, has lovingly cultivated organic strawberries, loganberries and other crops, and is more than willing to share his passion with you. A'Moss is super popular so you may have to book up to 3 months in advance!
3
For those who want to experience riverside glamping
At Dusun Bonda, have the amazing experience of riverside glamping unwinding at your own pace and taking in the peaceful river views. Your stay is sure to be a rejuvenating one — take a leisurely stroll through the 2.1-acre fruit orchard or simply relax in your beautiful bell tent, with soft lights twinkling above you. Perfect for families and extremely roomy, Dusun Bonda offers tent options that can house 4 adults and 1 child, or 6 adults and 1 child. With thoughtful touches like the handmade river swings, mini freshwater waterfall and playground climbing wall, you'll never be bored! For those seeking a little more adventure, natural hot springs are just a 15-minute walk away!
4
For couples wanting an authentic camping experience
Reconnect with Mother Nature at Tanah Aina Fahad, where you are promised cascading waterfall sounds and lush green forest. Your tent is designed for ultimate convenience and comfort, with king or queen-sized beds, electricity supply, and a generous collection of books and movies at your disposal. No trees or rocks were removed during the construction of the resort — it's as if the tents were built to coexist with nature. With the chance to explore diverse beautiful plants, exotic wildflowers, and wildlife, your thirst for nature experiences is sure to be quenched.
5
For pet-owners who want to camp under the stars
At Farmville Negeri Sembilan, pitch your family tent under the stars and revisit your childhood with activities such as harvesting, hiking, fishing and bamboo rafting. A sumptuous BBQ dinner and campfire night will add on to your classic camping experience. Your family tent sleeps up to 3 with sleeping mats provided for more comfort — you can even bring your pets if you wish to! With so many activities to consider, your family is sure to enjoy this short escape from the hustle of city life.
6
For nostalgic vibes in bohemian style tents
Shi.er Glamping is a hidden campsite in Semenyih (Selangor) that offers the best combination of wilderness and comfort. After being picked up by a vintage campervan, admire your cosy bohemian-style tents and have some downtime to relax. Your tent has a queen-sized bed and can sleep 4 people. Hot springs, fishing and hiking up Broga Hill are all activities you can consider. Lee, your friendly host and awesome cook, is an active collector of vintage memorabilia, even retro tents — your vintage experience is sure to be an authentic one!
7
For eco-lovers who want to stay in cosy little huts
Sticks KKB is a gorgeous eco-glamping haven deep in the forest, away from the city's hustle and bustle. Stay in cosy little huts (sleep 2) surrounded by lush rainforest, and go totally off-grid with no wifi - you'll be able to get a proper social media cleanse and spend some ultimate quality time with your loved one. Trek in the forest, laze in the cool rivers or play board games in your hut, with fresh home-cooked meals served to you each day! (We heard their banana fritters are the best!) Do note Sticks KKB has a min. 2 nights stay policy.