10 Komodo Boat Trips For Every Travel Style & Budget
10 Komodo Boat Trips For Every Travel Style & Budget
Whether you're looking to see the pinkest Pink Beach, or want an off-the-beaten-path itinerary, you'll find a boat trip for you here.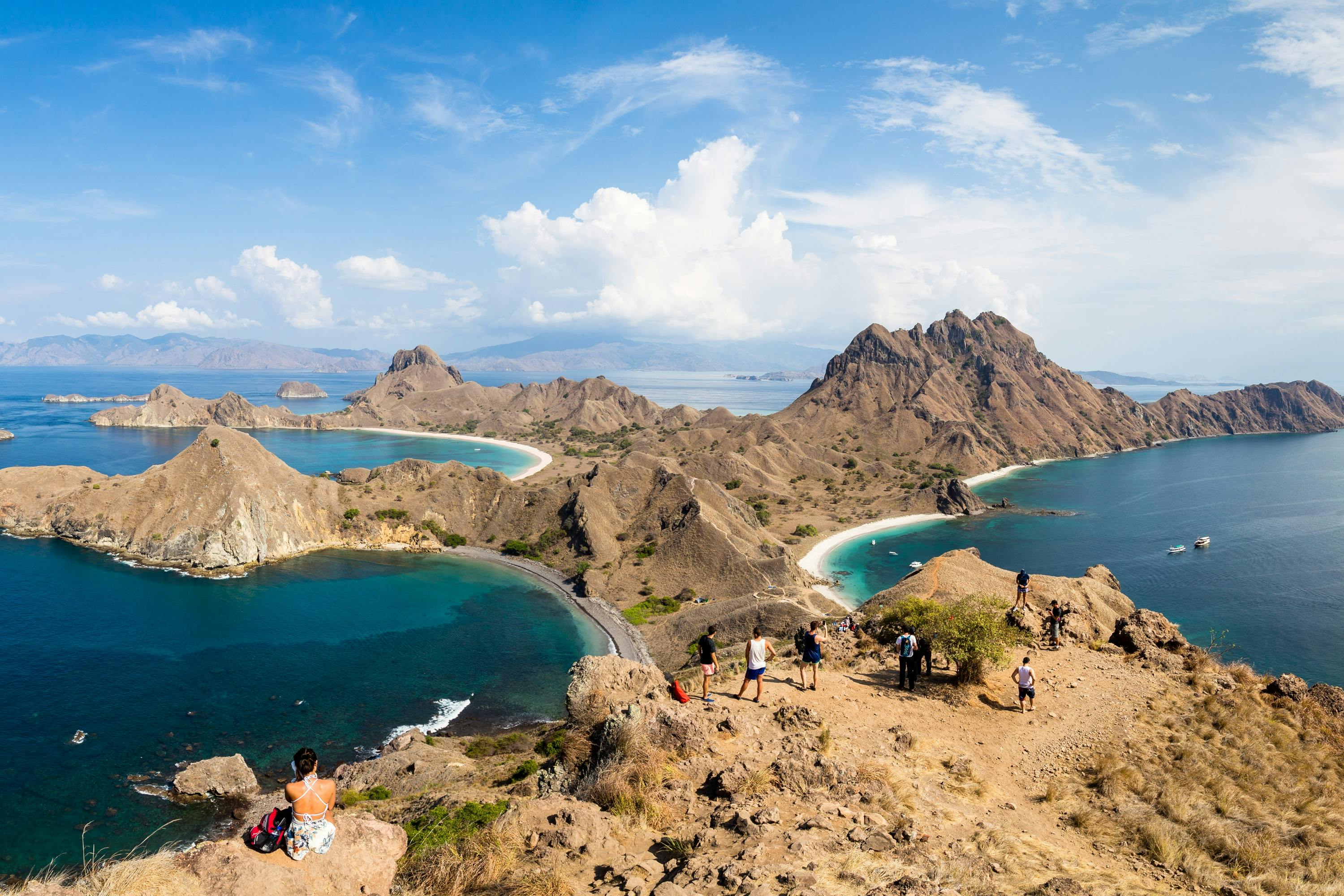 There are hundreds of ways to see Komodo National Park - literally. At last count, there are over-100 island-hopping trips, and over-90 diving trips at Komodo Park. We know the choices can be mind-boggling, so we've narrowed down our favourite 10 ways to see Komodo National Park here.
1
For backpackers who love meeting new people
If you're looking for a budget-friendly trip and don't mind roughing it out for an incredible experience, you're in luck! These basic boat trips are the most frequent trips in Komodo, and draw a fun crowd. The 1 and 2-day basic boats sail daily, and the 3-day basic boats sail every Friday. These boats are super basic though (16 persons to 1 toilet), and have a crew that speaks very basic English. The most popular basic boat trip is the 2-day one, and we would recommend the shared deck accommodation as the cabins are tiny.
2
For those who prefer not sharing a toilet with 16 people
If you're looking for a comfortable trip, you can either go on a 1-day speedboat or a 3-day Deluxe/Luxury boat. The 1-day speedboat departs daily, and the 3-day Deluxe/Luxury boats depart every Friday. Deluxe/Luxury boats tend to have better food, nicer accommodation (3-4 star standard) and a crew that speaks better-than-basic English. If you want a longer trip but cannot make a Friday trip, you can also do a private charter of a Deluxe/Luxury boat!
3
For those short on time, but want to see everything
If you're short on time, you should do a 1-day speedboat trip. Speedboats are twice as fast as wooden boats, so the 1-day speedboat trip covers as many islands in Komodo National Park as a 2-day boat trip. The speedboat trips start early (at 5:30am) though so you'll need to fly in the night before, and spend at least 1 night in Labuan Bajo.
4
For celebrating special anniversaries
This beautiful boat in Komodo National Park is not cheap, but it's good value for what you get. Gourmet chef on board, check. Beautifully plated food, check. Luxury boat, check. As it's a private charter, you'll have the entire boat to yourself and you have the flexibility to change up the itinerary however you like. It's perfect for couples looking for that trip of a lifetime.
5
For families or groups of 4 and above
If you're in a group of 4 and above, or travelling with family, we would highly recommend chartering your own boat. You can get some seriously nice boats on private charter, and on a per person basis it works out to be cheaper than joining a group boat trip. You'll also get full flexibility over itinerary and start/end times.
6
For adventure seekers who want a unique itinerary
For adventure seekers, do the Labuan Bajo-Lombok trip. You'll need 3-4 days to do this, and be prepared to rough it out (trickle showers, one toilet shared among 15 people). They're great if you're looking for an off-the-beaten-path itinerary as they cover more unique islands, and if you're looking to meet a fun group of new people.
7
For divers who also want to island-hop
The boat trips in Komodo are usually split between island-hopping trips (with snorkelling and hiking to Komodo National Park highlights), and dive liveaboards (with primarily diving, plus 1-2 other Komodo highlights). For divers who don't want to choose between diving and island hopping though, there are handful of boat trips that do both. Note that these combination trips only depart on specific days each week.
8
For divers who just want to dive
There are almost 100 dive trips in Komodo (ranging from 1-12 days) so you're spoiled for choice! If you're on a dive liveaboard for 4 days or more, the dive liveaboards will usually include a couple of Komodo island-hopping highlights such as trekking to see the dragons at Rinca/Komodo Island and seeing the iconic views atop Padar Island. Dive liveaboards tend to depart once or twice each week.
9
For the pinkest #nofilter Pink Beach
There are several Pink Beaches in Komodo National Park. The Pink Beach that most boats go to is the one near Komodo Island, which has lost its pinkness recently as travellers take the red coral (which gives the sand its colour) home. Now, the pinkest (and more remote) Pink Beach is near Padar Island - called Short Beach. To get to Short Beach, you can take Red Whale's speedboat (if currents permit). Or you can also get a private charter boat to take you to all the Pink Beaches to compare them! Don't forget to leave the red coral behind 🙈
10
For those who are looking for the best money can buy
This boat redefines luxury. It's essentially a 5-star hotel sailing in one of the most beautiful places in the world. Every suite comes with wifi, an HD TV and IPod docking stations. The boat comes with a gourmet Indonesian chef preparing locally-sourced fine meals, a designated 'relaxation quarter,' in which a qualified pijit masseuse administers treatments and holds yoga sessions, and jet-skis just in case you're ever bored. Company retreat anyone?